When working on your knitting or crochet project, there are ways to keep the your yarn in order. This guide contains homemade yarn holder ideas.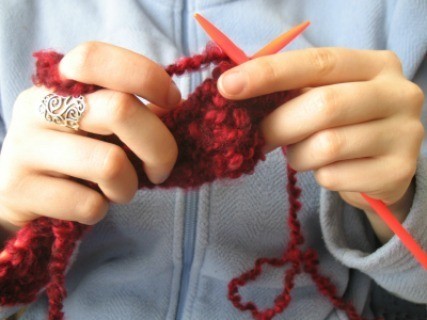 Filter

: All Articles
Sort

: Relevance
Just recently I bought a yarn holder at Wal-mart that helps keep yarn clean and tangle free. It is a clear plastic jug with a lid that has a hole in the center for the yarn. You place your center pull skein of yarn through the opening and pull working yarn through hole in lid. I thought it would be perfect for knitting on the go until I realized it was much too large to fit in my purse.
My frugal alternative was to take a clean gallon size Ziploc bag and use a hole punch to punch a hole on the bottom center of the bag. I then placed my skein of yarn into the bag, put working yarn end through the hole, then zip locked the bag. This is way cheaper and much smaller then the one I bought.
By Tracey from Duluth, MN
Someone wrote in that she rolls her yarn into a ball and puts it in a coffee can with a hole in the lid for the yarn to come up through. I tried that, but the edge of the plastic lid kept cutting the yarn. So I came up with a better method. I still use the coffee can and its plastic lid. But I cut the hole much larger. Then I take a circle of plastic canvas and cut out the center of it just a few rounds in.
After doing this I use double strands of yarn and whip stitch all the way around to cover the edge completely. But I only do this for the edge. Next I glue the unworked plastic canvas to the under side of the plastic lid. Now my yarn comes up nicely without catching or breaking.
By Cricketnc from Parkton, NC
I have always had a problem with yarn staying put when I am knitting and crocheting. I thought it was silly to purchase the already made yarn canisters with the hole in the top, so I made my own with a large potato salad container.

First, I put a hole in the top so that the yarn would easily slide through it. Then I decorated mine with yarn. I wrapped the yarn from the bottom to the top and secured it with a touch of hot glue. Then I decorated the lid with the same yarn in spirals. Now I have my very own frugal yarn canister and it only cost me a bit of yarn. Very easy and helpful!

By Maureen from Silver Spring Township, PA
I need a yarn keeper because I''m knitting a cardigan with 6 different colours, just stripes. Any suggestions?

By Alice
July 9, 2012
1

found this helpful
How about cleaning out 2 liter soda bottles or gallon milk bottles. Punch a hole on one side, just large enough for the yarn to go through. Just a thought.
July 9, 2012
1

found this helpful
The soda botttles work great. Instead of cuttting a hole in the side for the yarn to go through, take the plastic cup off of the bottom of your bottle, put your yarn in the bottle running the end of your yarn through the neck of it then put the cup back on the bottom of the bottle to hold your yarn inside.
July 10, 2012
0

found this helpful
Coke bottle would work but they no longer have the plastic cups on the bottom. Ive used empty coffee cans and empty ice cream container, shoe boxes. You don't have to get fancy an regular box will do. You just need to be able to keep the yarn from getting tangled and rolling all over the place.
July 16, 2012
1

found this helpful
I am not a knitter, but I saw an idea for another use that might work. Could you use old socks to hold the yarn? By using one sock per color, they would not roll around or become tangled. Then all the socks (colors) could go in a box, basket, whatever is handy. Since I'm not a knitter, I don't know if the yarn would be held too tightly inside the sock to be used easily. I'll be interested in any feedback.
I cut a hole out of the top of a plastic milk jug, leaving the handle intact. A ball of yarn or crochet thread easily rolls around the clean inside of the jug while you knit or crochet. No more chasing balls across the floor or having the yarn/thread getting dirty as you use it! There is also enough room in the jug for your pattern and hook or needles when you have to set aside your project.

By Becky from Watertown, WI
It may not be the time of year for knitting and crocheting gifts, but if you're like me, you are currently working on projects to get ahead for the holidays and cold weather.
If you knit or crochet, an empty 2-liter soda bottle is useful. Cut off the bottom and place a skein of yarn into it, after you've started the skein from the middle, and feed the yarn through the bottle neck.
Install a toilet paper roll holder on the edge of your craft table to hold your crochet balls. It makes it easy to dispense yarn as your work on your project. If you want to use more than one color at the same time, you can install a more than one toilet paper holder.